December 22, 2016
8 VFD Tips from Rockwell Automation Fair by Charlie
Motors and drives are a critical piece to your system and your industrial system is only as good as its weakest link.  Charlie Medinger traveled to Rockwell Automation Fair in Atlanta and scoured the trade-show floor for important products that go with your motor and drives to improve and protect your system around VFDs!
1. Next cooling unit from Hoffman/Pentair should have coated coils
Many Air Conditioning systems perform better with drives, but it may not be the drives that cause the system failure.  If you have frequent A/C failures or have a corrosive, dirty environment, it could be the coil that is failing.
Air conditioners are commonly used to keep electronics cool in various areas, such as industrial automation, telecommunication equipment, security and defense systems as well as other indoor and outdoor electronics applications. The electronics may be housed in protective enclosures, where air conditioners deliver cooled air to keep the entire enclosure at desired temperatures for optimum electronics operation.
The operating environment of these air conditioners can be aggressive and may present harsh elements, such as chloride and sulfur compounds in coastal areas, sulfur oxides and nitrogen oxides in industrial polluted areas, as well as airborne particles, cutting oils and solvents on factory floors. Air conditioners are typically packaged units, with air-to-refrigerant condensers and evaporators. These heat exchangers are often constructed with copper coils and aluminum fins, allowing refrigerant to flow within the tubes while air flows through the fins. Heat exchangers are susceptible to hostile environments and, over time, contaminants can corrode the heat exchangers or particles can accumulate within them. This causes the heat exchanger performance to degrade, leading to capacity loss, high head pressure and, eventually, compressor failure.
To minimize heat exchanger corrosion and dust accumulation, coatings can be used
to protect metal parts from harsh industrial environments. This white paper will discuss the different types of corrosions present, common coils used in air conditioners and salt spray and dust loading testing results, which indicate the effect of coatings on air conditioner performance and efficiency.
White Paper:  http://www.pentairprotect.com/wcsstore/AuroraStorefrontAssetStore/UserDownloads/WhitePapersCaseStudies/WP-00026_EN.pdf
2. This device from Softing can be rail mounted in your panel to monitor/capture events on your Ethernet network.
EtherNet/IP Network Diagnostics Independent from Controller and Control Room
This device from Softing can be rail mounted in your panel to monitor/capture events on your Ethernet network.
The TH LINK EtherNet/IP diagnostics tool makes use of a controller-independent access to monitor EtherNet/IP networks. The diagnostic data is collected in networks comprising up to 254 nodes, and made available to users through the TH SCOPE software application. TH LINK EtherNet/IP is easy to use and can be integrated without interfering with the operation of existing installations.  Find out more here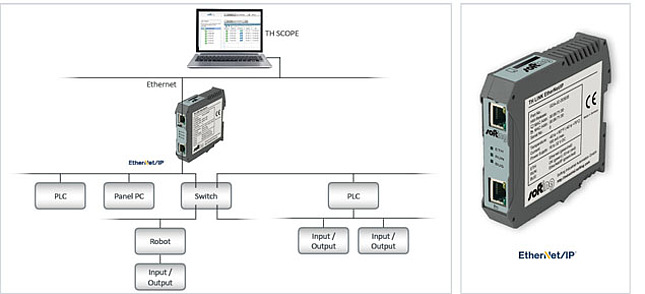 3. Want a disconnect near your motor with visual confirmation that power has been disconnected to the motor or includes drive disable?
Hubbell's motor disconnect switches now with visual confirmation lights that show if the power has been disconnected or not, as well as a feature to disable the drive wit the motor.
NEC section 430.102(B) requires each motor controller to have a disconnect within line of sight from the motor and driven equipment. NEC section 430.109(A)(6) recognizes that a manual motor controller and disconnect can be the same unit, provided it has been tested for this purpose. Hubbell's Circuit-Lock® Unfused Disconnect Switches are UL listed as a manual motor controller and also "suitable as a motor disconnect" and meet these code requirements. In addition, the enclosure offers the ability to lock directly wired motor loads in the OFF position to comply with OSHA Lockout/Tagout regulations. This safety enclosure is Type 4X (Wash down, Corrosion resistant) IP69k and is also suitable for use with metallic conduit. The switch is mounted on an internal frame that is integral with the enclosure and bonds all grounds, and it accepts auxiliary contacts that can be used to signal PLC controllers.
4.  Is the drive running hot? Use an Infrared camera through an IR window from Hoffman without opening the cabinet.
It takes time and risk to shut down power, open a cabinet, put on some PPE just to check and do preventative maintenance on a panel.  Save time and use an IR camera to look, test, analyze any issues.
IR Windows provide a safe, efficient, and accurate way to perform electrical inspections or predictive maintenance without removing the panels or disturbing the electrical equipment. Installing the IR Windows can help protect employees from potential arc flash hazards and comply with NFPA70E safety guidelines. The special design and feature enable quicker inspections which save money and time.
More info here: http://www.pentairprotect.com/en/hoffman/ir-window-ir-window

5.  Want a reliable drive installation? Install a surge trap in front of the drive.
Phase modules are replaceable!
Surge-Trap® Pluggable Surge Protective Device (SPD) is a no-fuse, fail- safe surge suppressor featuring Mersen's patented TPMOV® technology inside. UL 1449 4th Edition approved, it is DIN-rail mountable featuring a fail-safe self-protected design, visual indicator, and a small footprint. A remote indicator option provides status to critical control circuitry. The Surge-Trap Pluggable SPD has a high short circuit rating and a thermally protected MOV, which eliminates the need for additional overcurrent protection devices.
More info:  http://ep-us.mersen.com/products/catalog/line/surge-trapR-pluggable-spds-din-rail/

6.  What fuse type should I use? This is a great choice for branch protection as well as fast drive protection.
The High Speed J (HSJ) fuse combines the low I2 t of a semiconductor fuse and the branch circuit performance of a Class J UL listed fuse. This fuse was designed for the starting characteristics of solid state motor controllers. The HSJ can provide branch circuit protection per NEC requirements, as well as very low I2 t for protection of power semiconductors such as Diodes, SCR's, GTO's and SSR's
Spec Sheet:  http://ep-us.mersen.com/fileadmin/catalog/Products/Fuses-Fusegear-and-Fuse-Systems/Low-Voltage-UL-CSA-Fuses/Class-J/HSJ-Class-J-High-Speed/ADV-B-UL-Power-Fuses-HSJ-High-Speed-Class-J.pdf
7.  Use shielded wire duct to shield the noise from VFD output.
Panduit has shielded wire duct which contains or shields the high frequency noise generated at the VFD output. Noise can disrupt signals from sensitive wiring close to Variable Frequency Drives.  PanelMax ™ Shielded Wiring Duct and Noise Shield route, separate, and shield sensitive wiring from noise emission. This allows pathways to be placed in closer proximity, saving valuable space within industrial control panels.
More Info:  http://www.panduit.com/heiler/ProductBulletins/D-WDCB26–SA-ENG-ShieldedWiringDuct-W.pdf
8.  Don't forget the VFD cable! Unlike THHN, no water absorption, no breakdown from voltage spikes! No radiated noise!
You can install different types of wire with your Variable Frequency Drives, but not all are correct.  If you don't like replacing your drives or maintaining them often, protect them with VFD Cable.
VFD cable is a flexible, shielded power cable specifically engineered for use in variable frequency AC motor drive (VFD) applications.
IT MITIGATES PROBLEMS ASSOCIATED W/ VFDs:
Electro Magnetic Interference (EMI)
Reflective Wave Voltages
Cable Failures due to the above
Limited motor lead lengths due to other cable.